Universal's Volcano Bay water theme park is supposed to be set in a highly themed, completely immersive environment inspired by postcard-perfect tropical islands. It's supposed to be an island oasis where thrills and relaxation flow in perfect harmony, and it's designed to be an all-new kind of paradise where every moment is inspired by the belief that water is life, and life is joy.
The water theme park is based on the story of the Waturi people, who "criss-crossed the great ocean" in search for a "mythical Golden Fish" called Kunuku. Along the way, the Waturi people traveled "to Tahiti, Hawaii, Bali, "blending each remarkable culture with their own." Eventually, the Golden Fish leaped from the waves, leading the Waturi people to a "lush, enchanted island filled with sparkling pools, sandy beaches, and a towering volcano."
Using the story of the Waturi people and inspiration from tropical destinations, Volcano Bay is meant to offer an experience where you too can discover the wonder of an island getaway at a thrilling water theme park. That's right, a water theme park. Universal Orlando is promoting this development not as a water park but a water theme park, rather. In some promotional videos, Universal even refers to this destination as their third theme park. The conception renderings Universal has released up to this point illustrate a serene park with lush greenery, crystal clear water, a massive volcano with a waterfall, thrilling attractions, and cabanas. It's as if Volcano Bay is something special, something unique. It's as if this park is intended to completely immerse guests into the park's story and theme, but just how immersive is the water theme park?
Universal's Volcano Bay truly looks like a destination that is well worth a visit . . . or more. The park virtually features everything that makes a water park amazing, plus more. It takes the idea of relaxation and thrills (or so it appears), creating a destination that meets the wants of almost every audience. Unlike many water parks, Volcano Bay tells the story of a tribe and their culture to create a completely original experience. Additionally, the water theme park is scheduled to remain open well into the night to provide a nighttime experience unlike anything you've ever seen. With all of the available details, Volcano Bay surely looks like an amazing park, a park that's not just a water park but a water theme park; however, it does have a couple of major flaws that should be addressed.
The Volcano
The 200-foot-tall volcano towering high above at the heart of Universal's Volcano Bay is the icon of the park. It's pictured in the park's logo, promotional videos, and many promotional images. It'll quite possibly be Universal Orlando's largest landmark ever wholly created. Because of its immense size, the volcano can practically be considered Orlando's new landmark. What's truly fascinating is that it can be seen from many areas, like the northern part of International Drive, portions of Interstate 4, and parts of Turkey Lake Road. As breathtaking as it may be from the front with its flowing waterfall, lava effects at night, ruins, and incredible detail, the volcano will not be completely enclosed. As seen in the above image taken in early April, the back portion of the landmark will be completely exposed, revealing the inner structure, stairs, and waterslides. With close attention to recent videos released by Universal Orlando, it can be seen that this was actually revealed. Though this may not utterly destroy the immersiveness of the park, it surely does reduce it. A fully enclosed volcano, as opposed to a partially enclosed one, could have made the landmark even more awe-inspiring and realistic. Doing so would not just have made it more visually appealing but could have also made way for better experiences.
Located at the back of the landmark are many structural supports for the waterslides and aqua coaster as well as steps leading to the top of the volcano. With the current design, the exposed back leaves a half finished volcano, though it will provide stunning views of International Drive, local neighborhoods, and other surrounding areas. This isn't bad actually, but it takes away from the park's theme by giving views of a bustling highway, residential areas, and other structures rather than a tropical oasis. If the volcano was designed to be fully enclosed, however, guests on the attractions or stairs could have been offered a view of the volcano's interior caves, creating an experience that truly immerses you into the story of the park.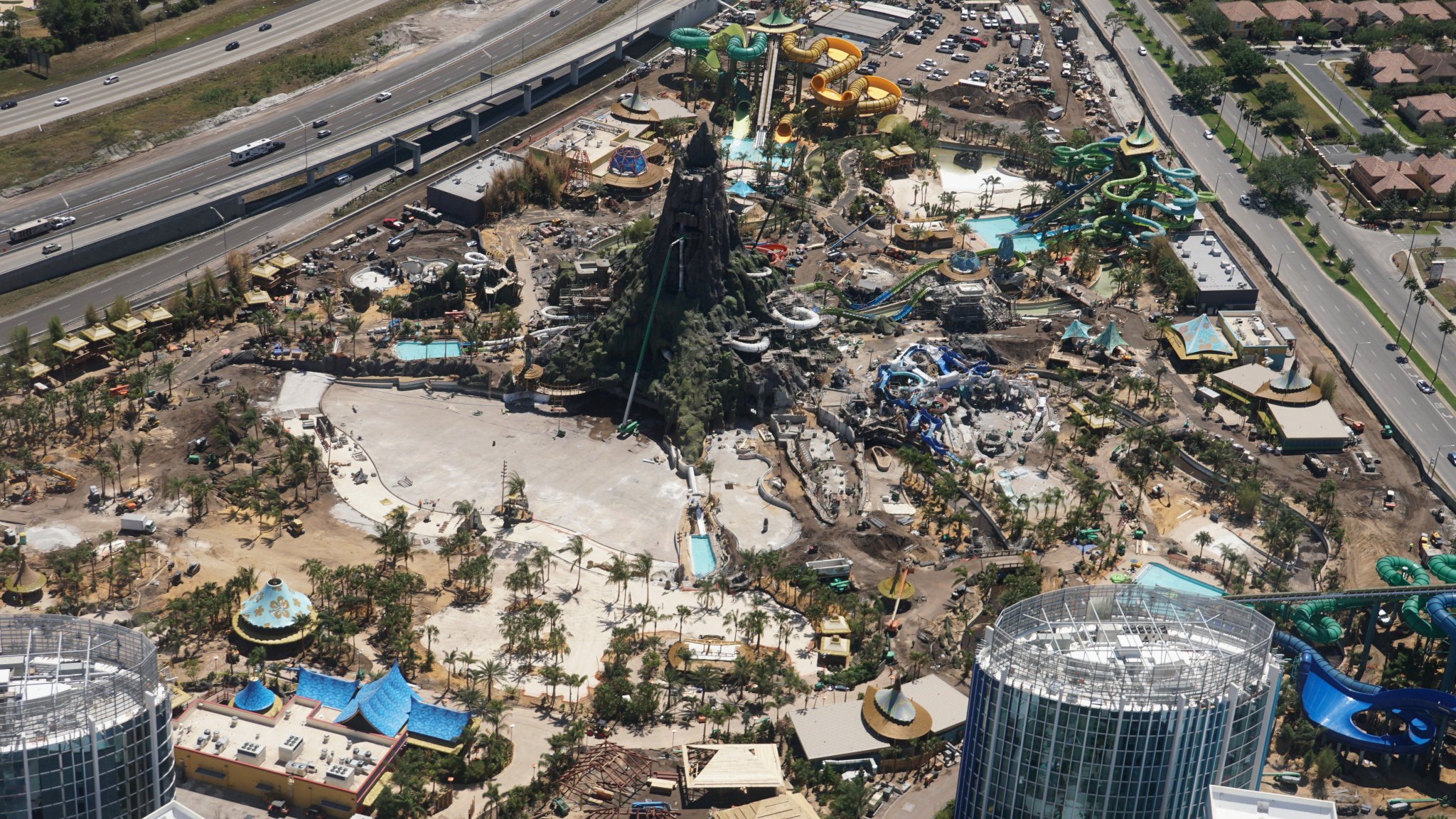 Local Traffic
When looking at the location of Volcano Bay, traffic from Interstate 4 and Turkey Lake Road may take away from the park's tropical, relaxing atmosphere. From most areas of the park, local traffic will not be visible, and Universal Orlando is making every effort to block the nearby roads by using large trees; they work for the most part but not entirely, as the surrounding roads will likely still come into view on some waterslides and cabanas. Although this may not be a major issue, it does somewhat take away from the park's idea of transporting guests to an "island oasis."
A more substantial matter that exists is not the site of local traffic but the oncoming noise of vehicles from the nearby roads, especially from Interstate 4, which receives heavy traffic. To combat this, Volcano Bay will play music themed to the park, just as Universal's theme parks do; however, it will probably not block out the commotion to those who paid extra for a cabana located directly next to major highway.
I personally do not find local traffic to be something that will impact my experience at the park, but it does somewhat take away from the ability to immerse guests to an island getaway. With Universal's limited undeveloped space, though, there was no other location for this destination, unfortunately.
Overall
When looking at Universal's Volcano Bay as a whole, it definitely has a lot to offer. With a massive wave pool; pulse-pounding attractions like the Krakatau Aqua Coaster, which plunges you upwards and downwards on specially designed canoes; a lazy river; and a fun kids area that features a splash area and waterslides, Volcano Bay has something to offer for everyone; it's a destination that's designed to entertain people of all ages. Despite its flaws, it seems that the water theme park will do a fairly great job at immersing guests into its theme and story. In fact, these flaws may either be addressed or seemingly work with the design of the park. What I find to be a great detail is that Universal even went as far as to serving island-inspired food, like slowly-smoked glazed Hawaiian ribs and mango barbecue pulled pork sandwiches, as well as tropical beverages, such as toasted coconut pineapple, to provide an atmosphere that keeps guests within the storyline.
When Volcano Bay officially opens on May 25th, we'll find out just how incredible the park actually is and whether or not it lives up to its hype.
Although this post mainly discusses Volcano Bay's flaws, the water theme park surely looks promising and should provide a great experience, an experience centered around Universal Orlando's first-ever park that's based on a completely original storyline rather than an existing film, show, or written work. Stay tuned for an article I plan to publish in the coming weeks discussing if Volcano Bay is worth a visit.