Universal's Volcano Bay is scheduled to open in just a couple of days—on May 25th to be exact. Volcano Bay will be Universal Orlando's third park, making Universal a bigger vacation destination than it has ever been. Volcano Bay will introduce new attractions and new experiences that are unique to it. It will be not just a water park but a water theme park, a water theme park that is home to more than a dozen attractions, a 200-foot-tall volcano that features a shimmering waterfall and eruptions, and tons more. This is not just a new park inspired by postcard-perfect tropical islands, it's a destination that is designed to immerse you to an island oasis where thrills and relaxation flow in perfect harmony. But is Universal's Volcano Bay really worth visiting?
Whether or not Volcano Bay is worth visiting depends on what you're looking for in an experience. I think the first best way to determine this is to decide if you actually like water parks. Volcano Bay may be called a "water theme park," but don't get confused by that title. Volcano Bay is not a theme park in any way; it's a themed water park, hence why it's called a "water theme park" rather than a "water park." If you don't like water parks, then Volcano Bay may not be a park that you should visit, but if you do like water parks, I suggest you learn more about the park to see exactly what it has to offer.
Universal's Volcano Bay water theme park revolves around a storyline that is quite unique actually. Unlike existing water parks in the area, Volcano Bay revolves around a culture—the culture of the made-up Waturi people. The Waturi people discovered this tropical paradise when traveling the great ocean in search for a "mythical Golden Fish" called Kunuku. During their expedition, the Waturi people traveled to Tahiti, Hawaii, Bali, and blended each culture with their own. One day, Kunuku leaped from the waves, leading the Waturi people to a lush, enchanted island with a towering volcano. Everything you see at Volcano Bay and everything you do at Volcano Bay is because of the Waturi people.
This storyline is the foundation of Volcano Bay. It tells exactly how this park was formed, creating something that is truly special. Competing water parks in the Orlando area seem to revolve around a theme or a destination but lack a full and complete narrative. Whether it be an ocean theme, a ski resort, or a wrecked tropical paradise (just to name a few), they don't tell the tale of a culture, and this sets Volcano Bay apart. Yes, Volcano Bay is inspired by Polynesian islands and cultures, and yes, it is also a tropical paradise, but Universal took this inspiration and theme to create a story that is completely original as a way to explain how the park became what it is today—and Universal does this using the Watari people. This doesn't necessarily downgrade other competing water parks, but it does make Volcano Bay distinct.
Typically, the highlight of any park is its attractions—and Volcano Bay has plenty of them—18 to be exact. These 18 attractions are designed to entertain teens, adults, children, thrill seekers, and "easygoers." Volcano Bay is basically a park that's intended to delight people of all ages and people with different interests. Volcano Bay's attractions include trap door type slides, body slides, tube and raft slides, an aqua coaster, a lazy river, a wave pool with multi-directional waves, and more (to view the full list of Volcano Bay's attractions, click here). One of the trap door slides drops you from the peak of the volcano at a 70-degree angle into a pool of water. In short, Volcano Bay features a mixture of thrilling, relaxing, and mild attractions, making it an enjoyable experience for the entire family.
The great thing about this water theme park is how it's split up into different themed areas. This park features four themed areas that all revolve around the park's culture and overall theme. These four areas include the towering Krakatau volcano located at the center of the park; it actually houses a few attractions as well as interior peaks, valleys, and caves. The volcano is the icon of the park, and it's visible from many surrounding areas, like the northern part of International Drive, portions of Interstate 4, parts of Turkey Lake Road, and CityWalk. The other three themed areas are the park's villages, and each village has its own unique experience. Wave Village is a peaceful escape that overlooks the sparkling waters of Waturi Beach at the base of the volcano. River Village is a scenic area where fun flows through for people of all ages, including young children; it'll most likely be the perfect place for those who just want to relax and unwind. And the last themed area, Rainforest Village, is a forest full of excitement; it stretches along the shores of an action-packed river and features the perfect mix of relaxation and exhilaration.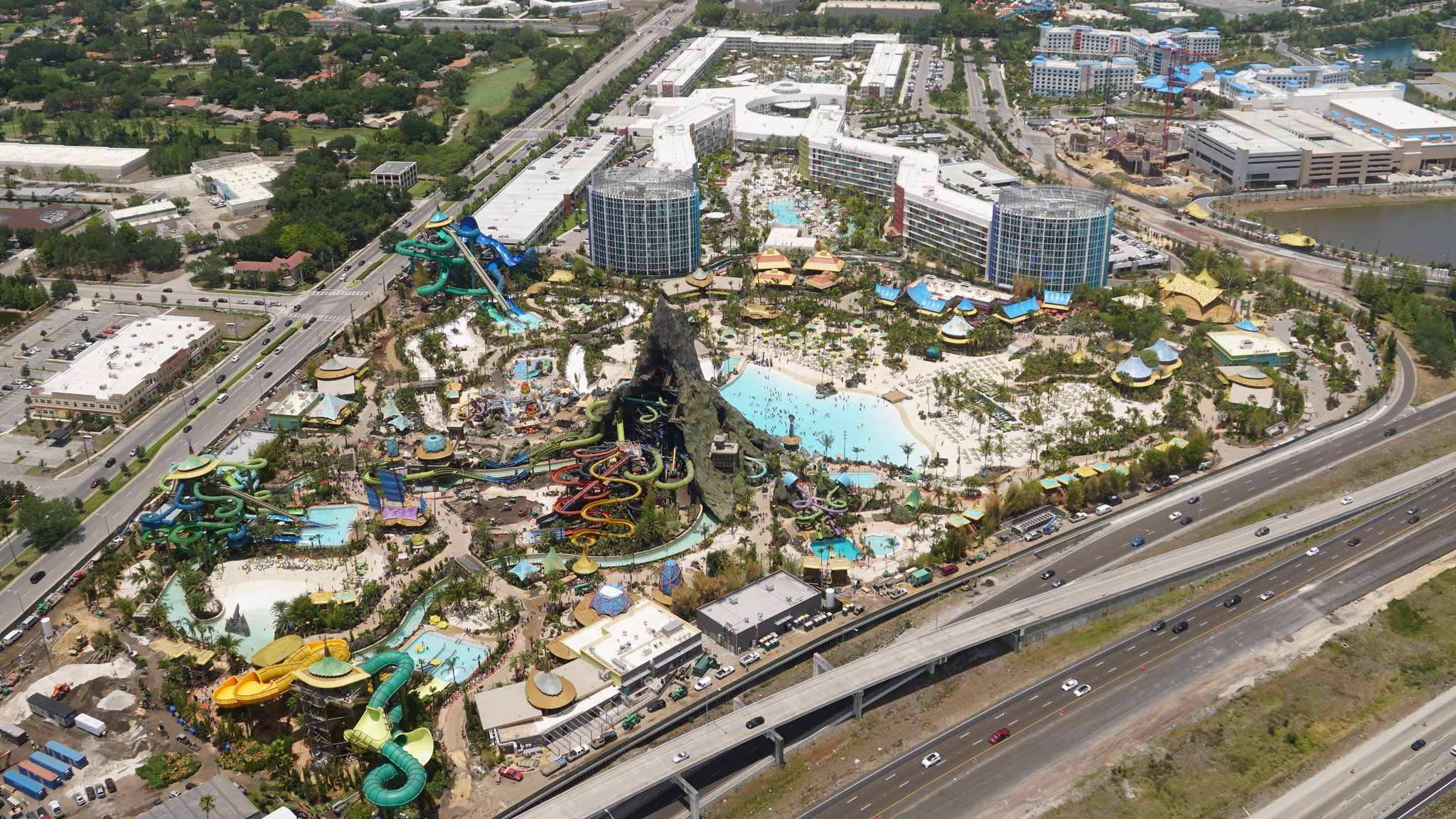 I think the use of these themed areas help to further immerse guests into the experience Volcano Bay is trying to deliver. However, since I just finished discussing these themed areas, specifically the Krakatau volcano, I will mention that the volcano is not fully enclosed. The back portion of it is left exposed, leaving a half-finished volcano. Although this may not completely destroy the immersiveness, I would like to say that this is an odd design, and it makes the volcano look less visually appealing and less impressive (at least from the back area). As I pointed out in my previous post that discussed this topic, if the volcano was to be fully enclosed, Universal could have created an experience that truly immerses guests into the story of the park by adding additional caves and possibly interactive experiences in the queueless queue for Ko'okiri Body Plunge, located at the volcano's peak. Furthermore, doing so would create a complete volcano, making it appear more realistic by hiding the structural supports for the waterslides and aqua coaster. Again, this doesn't necessarily make the volcano or the park as a whole less impressive, but it does reduce the immersiveness of the park. It should be noted though that Universal may have a reason behind this design. Perhaps this design was chosen to allow for space for more attractions. Some have said that this design may have been selected due to heat inside the structure. Air conditioning could be an option but would be costly due to its large volume. Additionally, the use of air conditioning would cause mold to grow at a faster rate because of dripping water, requiring more maintenance, some have argued. Another person believes this approach was made to allow crews to easily access the waterslides when needed. Whether these theories are true or not are not known. Universal may have just designed the volcano this way just because they wanted to.

Now to get away from the topic of the volcano, let's discuss how Volcano Bay keeps guests relaxed and enjoying their time at the park all day long. Universal's team traveled the world visiting different places, including China, Spain, Dubai, and all over the North American continent to study different hassles guests experienced at water parks. One of these hassles was waiting in long lines. As a way to combat this, Universal's Volcano Bay will use a Virtual Line system using a waterproof wristband called TapuTapu, so guests can have a return time to an attraction and experience the rest of the park's activities while virtually waiting in line. This concept creates less of an inconvenience to guests because they won't actually have to physically wait in line; TapuTapu will alert them when it's time to ride, and they can head directly to the attraction with little to no wait.
With all of this information, is Universal's Volcano Bay really worth visiting? The short answer: yes and no. The answer to this is more complex than this. If you like water parks, it really depends on if the experiences here fit what you like and if your budget allows for it. A single day ticket to Universal's Volcano Bay, according to Universal Orlando's website, is $67 for adults and $62 for those ages 3-9, making it slightly more expensive than a single day ticket to Walt Disney World's water parks, which are far larger. Volcano Bay does offer experiences that Disney's water parks do not offer, but the price for a one day ticket here is more than it really should be. If anything, Volcano Bay should have more comparable prices. So, if you're on a tight budget, I do not recommend visiting this park, but if your budget allows for it, I say you should check out the park. It should be noted that you do not necessarily have to purchase a single day ticket to Volcano Bay. You can buy a multi-day ticket that includes this park as an option.
Universal's Volcano Bay is scheduled to officially open on May 25th. We'll provide a full review of the park in June on our blog. Stay tuned.